News from Lowell Makes
Making it work: a year of COVID-19
It's been one year since Massachusetts instituted a "stay at home" advisory and we shut off key card to the doors at our Lee St. location, not knowing when we would open them again to members. We were several weeks away from our May 15th real estate closing on our new building at Western Avenue and the members of our Executive Committee were looking at each other through computer screens wondering how we were going to come through this. 

One of the best distractions from the uncertainty was doing what we love: making and innovating. By the end of March 2020, we were carefully allowing volunteers into the makerspace to contribute to our open-source 3D-printed PPE efforts. We remained closed to our general membership until May 2020, when we started allowing in 5 members at a time during reserved and socially distanced time slots. 

When we effectively closed in March 2020 the majority of our members continue to support Lowell Makes, but we did see an understandable decline in our membership. We are proud to announce that as of this month, March 2021, we have officially reached pre-pandemic levels of active Lowell Makes members. This includes both returning and new members! In our new building we have more to offer our members than ever before – and that includes a resilient and passionate maker community. We're so grateful to our supporters and sponsors who believed in us over the past year. 
President Sam Burdett and Marketing Director Amy Watson examine plans for the Western Ave. build-out
Update on our fundraising campaign: a $5,000 match challenge for Operation Repair our Roof!
As we announced last month, this harsh winter has exposed a few leaking spots in our membrane roof above our main warehouse where many of our shops are located. We want to fix these leaks as soon as possible before they escalate and cause more damage.
We are thrilled to announce that a generous donor has offered to contribute $5,000 in matching funds before the end of March.

We have SIX days to raise the remaining $1,687 and earn the full match. Any amount you can give this month will be doubled!
Upcoming events at Lowell Makes
Bicycle Tire Replacement (Virtual Event)
Wed. March 31, 2021 | 6:00 PM – 7:30 PM EST | $25
Warm weather is coming! Bike Shop Captain Sam Green will show you how to remove the wheel from the frame, how to swap out tires and inner tubes, and how to reassemble the bike afterward.
What are we making?
Construction has begun on our new front entrance! If you've been by our Western Avenue space, you may have had trouble spotting our front door which faces the garage bays to the left rather than the parking lot. We're very excited to have a new front door and a re-graded and more accessible ramp. Thank you to the Mass Development Collaborative Workspace Grant for enabling us to rebuild the front entrance, and to our contractor Nick Sarris!
Current stage of construction and final mock up for new front entrance
News from our Shops
Psanky! Ukranian Easter Eggs
Electronics shop captain George shared a beautiful tradition with several members – Ukranian Easter eggs, also known as Psanky! In our maker community, members often connect over shared interests. It's common for these informal groups to get together and chip in on supplies to learn a new craft like creating wooden instruments, candles, and now psanky!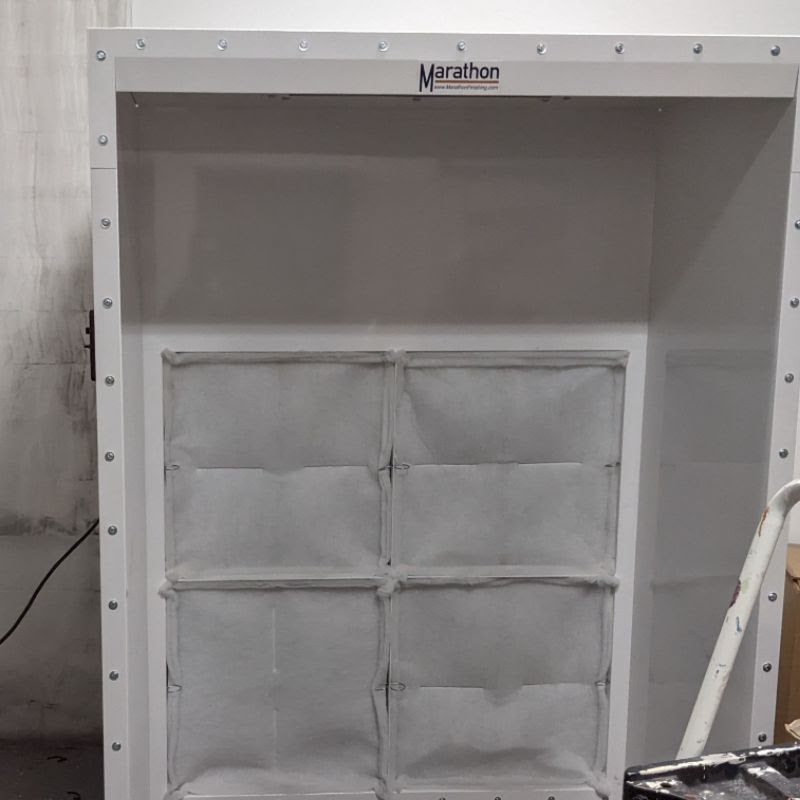 New Spray Booth
Again, thanks to a grant from the Collaborative Workspace Program through Mass Development, we were able to purchase a Marathon paint spray booth. Our ductless booth is 52 inches wide and uses a filtration system to capture overspray, fumes, and solvents so we can work safely. Makers from Cosplay to the Wood Shop are excited to put this booth to use.
Renovations for our Media Production Studio
In partnership with CTI's Entrepreneurship Center, Lowell Makes is upgrading the infrastructure and equipment in our Media Production Studio. New additions will include an audio recording booth, soundproofing ceiling tiles, an enhanced photography station, upgraded printing capabilities, high-tech editing software, and more!
What's on tap?
Before COVID-19, our Brew Crew was collectively brewing (and drinking) about one 5-gallon batch of beer a month. Members got together to brew, then a few weeks later to bottle and bring home a six pack of their own creation. While they haven't been able to gather as a group, the shop still managed to brew the first batch of beer for the kegerator in our new building – a Pumpernickel Rye Stout!